In France, nearly a third of private-sector employees practice telework, reveals a recent study that has crossed the eyes of leaders, managers, and employees on this professional practice. All recognize the benefits to this way of working. In mind: a more effective and efficient.
We know that the French companies jumpy about it. Good news: telework is now 29% of private employees in France (about 5.5 million employees), compared to 25% in 2017, reveals a study Fifg for The counter of the company. Better yet, the teleworking contract is also up 50%. In 2018, it was 9% of the employees. Telework "grey", non-contracted, remained the majority and for 21% of the employees.
Satisfaction side: officers and employees
According to the study, which polled 1 604 employees, of which 581 managers, and 401 officers, 79% of executives and 89% of employees believe that telecommuting allows for greater efficiency. The figure is known for a long time: teleworking allows an increase in productivity of 22% ( "telework in large companies", a study by the firm Greenworking (2012)).
Side leaders, we find, among their motivations to expand telework: better work / private life-working life for the employees (56 %), a way to retain employees by responding to their expectations (45 %, against 32 % in 2017) and the development of modes of management (34 %).
Among the benefits they see on the employees, 92% of leaders cite better quality of work life, 91% enhanced accountability, and 88% a large autonomy of employees. They cite as an increased commitment on the part of teleworkers.
81% of managers indicated that telework provides a method of management based more on trust.
Side employees, 8 teleworkers in 10 say they are satisfied or very satisfied with this mode of work organization. They feel more autonomous in their work (90 %), show a better balance private and working life (85 %), and feel a decrease in fatigue (85 %). For them, the average ideal of telework per month is 7 days.
The hesitations and pitfalls that remain
Among the pitfalls encountered, many brakes, and (false) beliefs often delay its introduction. No doubt, in telework, there is still work to be done !
Only 55% of managers are in favour of telework, and the leaders who do not want to are 31% to further enhance the resistance of managers as one of the reasons for its non-implementation.
Among the leaders who have introduced this practice, the main difficulty, cited by 56% of respondents, is the difficulty to manage their employees remotely. In fact, the management at a distance, while as the management, is not innate: it is learned!
85% of managers underline the need to put in place actions training and awareness to the specificities of this mode of work (new work tools remotely, best practices, risks…)
Among the employees, 59% of the respondents agree that teleworking can be a source of difficulties to separate family life and professional life and 47% evoke an overall workload more important. The home remains the principal place of telework, far ahead of the spaces of coworking, one of the issues is arrived to disconnect. Only 6 teleworkers in 10 have a real space to work at home. And if the first step was to develop a corner for the home working at home, that we can leave, as if we were going in the office?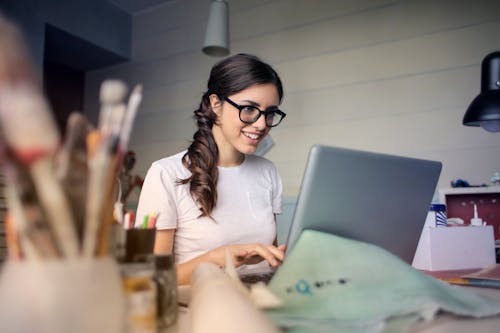 Thanks to teleworking, I have found my balance
Live in the Cevennes and working in Paris… Emilia, 40 years, talks about this new work that she has long prepared.